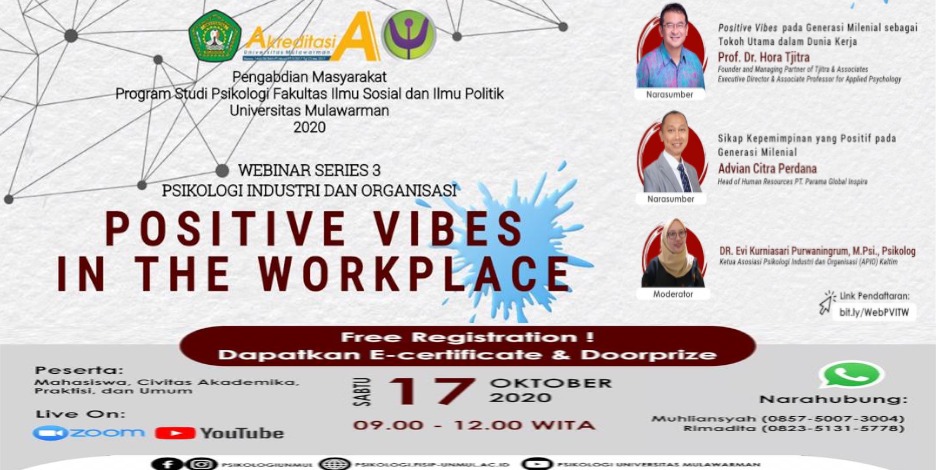 Semakin banyak kesibukan di tempat kerja kerap membuat sebagian karyawan merasa jenuh, bahkan sebagian dari mereka stres akibat pekerjaan yang tak kunjung usai. Itulah sebabnya, kita harus mampu menciptakan lingkungan kerja yang positif.
Suasana kerja yang positif tentunya dapat memengaruhi semangat dan produktivitas dalam bekerja. Lalu, bagaimana caranya untuk menciptakan sebuah lingkungan menjadi lebih positif dan menyenangkan?
Dengan mengikuti webinar series 3 yang diselenggarakan oleh Program Studi Psikologi Universitas Mulawarman dengan tema "Positive Vibes in The Workplace" akan membantu kita dalam menciptakan lingkungan yang positif di tempat kerja.
Narasumber
* Prof. Dr. Hora Tjitra
(Founder and Managing Patrner of Tjitra Associates, Executive Director & Associate Professor of Applied Psychology)
* Advian Citra Perdana
(Head of Human Resource PT. Parama Global Inspira)
Pelaksanaan Kegiatan
Hari/ Tanggal : 17 Oktober 2020
Pukul : 09.00 - 12.00 WITA
Via : Zoom Meeting
Benefit
E-certificate
Doorprize bagi yang beruntung
Terbuka untuk umum
FREE!!!!
Pendaftaran
http://bit.ly/WebPVITW
Contact Person
Muhliansyah_WA : 0857-5007-3004
Rimadita_WA : 0823-5131-5778
Jangan lewatkan kesempatan ini dan segera daftar yaa.. kuota terbatas!